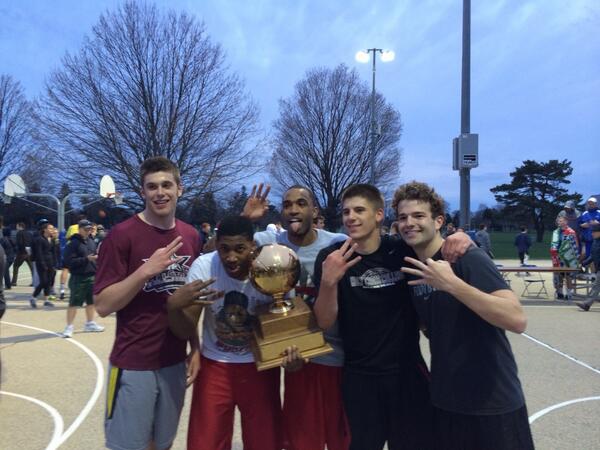 Each year, the University of Notre Dame holds the largest 5-on-5 outdoor basketball tournament in the world. With over 700 teams comprised of students, faculty and staff from the entire tri-campus community (Notre Dame, St. Mary's and Holy Cross), this tournament becomes more and more competitive each year. Everyone wants to be that last team standing. However, the past two years that team has remained constant. 
Zoe Bauer, Darrell McIntyre and Alajowon Edwards won the tournament their freshman year, with the name "Hoops We Did It Again," and followed it up with a repeat championship last year, going by the name "Holy Cross '15." This year they called themselves simply, "Holy Cross Juniors." All three of these players can be seen in maroon and silver playing for the Holy Cross Saints basketball team.
Zoe Bauer lost two key players in the off season– his cousin, Beau Bauer, moved away after accepting a new job at Indiana University (and was a former hooper at FGCU); and fellow Holy Cross teammate, George Stainko, had to be cut from the team due to a Bookstore Basketball rule change which stated a team cannot have more than three NAIA basketball players on the roster.
This did not phase the junior from Culver, Ind., as Bauer took it upon himself to recruit some players that he knew would fit well into his system. First, he picked up former Holy Cross student, Coley McKeough, who transferred to Notre Dame this past fall. As a former high school basketball star, McKeough was no stranger to the court. In need of some size underneath the hoop, Bauer searched for a big man soon after. He happened upon Holy Cross freshman, Tommy Waytula. The pick up of Waytula and his mid-range jumper proved to be valuable later in the tournament.
During the seeding of the tournament, this team got little respect as the two-time champions were seeded third in their bracket. "The motivation started back in the captain's meeting when we were preseason ranked third," Bauer stated. "It really baffled me how you can put the two-time defending champions as third."
Bauer continued in saying, "Aside from that, I relayed the information to my teammates and we used that as motivation throughout the tournament."
Due to a deeper tournament talent-wise, Holy Cross Juniors were forced to play tougher teams in the earlier rounds. Although this team they had some tough matchups early on, they used the old adage, "survive and advance." A 21-19 come from behind victory in the semi-finals put the team back into the championship game for a third-straight year.
"In the past three years, we have never faced a deficit larger than three points," Bauer stated. "Being down 19-15, we had to show some resolve and toughness in ensuring a return to the championship."
Going into "Championship Sunday" everyone was thinking the same thing: "They can't win three years in a row can they?" It has never been done before in the 42 years of the tournament's existence.
Holy Cross Juniors went into the game with little to no support from the Notre Dame students. This has actually grown into a rivalry over the past three years. Being that Holy Cross and Notre Dame are separated by State Road 933 North, this new-found rivalry could be considered "Battle of 933 North."
Everyone knew going into this game it was going to be a big, strong battle underneath the hoop and the team that could rebound the bets would be in prime position to win the game. That was the case for the Holy Cross Juniors as they had a great defensive rebounder in Darrell McIntyre. McIntyre also contributed with five first half points, including a free throw that would put the Holy Cross Juniors up 11-9 going into the half.
After an interview with Notre Dame legend, Digger Phelps, Bauer and his team regrouped and headed into the second half "firing." The team picked the zone defense apart at the beginning of the second half by increasing their lead to 14-9. Not to be overlooked, "Touchdown 3's" came roaring back and tied the game at 19-19.
Staying cool and collected, Coley McKeough shot a jumper that rattled off the back iron of the rim, floated up in the air for what seemed like an eternity, and eventually found its home through the net putting up the Holy Cross Juniors 20-19.
A quick steal by McIntyre proved costly for Touchdown 3's and the rest is history.
Bauer, McKeough, Edwards, Waytula, and McIntyre did the unthinkable. Winning this tournament once is tough enough. Winning it twice in a row is incredible. However, winning this tournament three times in a row is the stuff of legends.
"I told my friend Pat we're going to enjoy this one for tonight, but in the morning it's back to work in search of the four-peat," Bauer reflected Sunday night.
Bauer informed me that he is not yet satisfied and next year "Holy Cross Seniors" will try to end their collegiate Bookstore Basketball career the same way they started it … as champions.
About UNDerground
Welcome to UNDerground, the official blog providing in-depth and exclusive access to Notre Dame athletics. With features, videos, photos, commentaries and news from inside the athletic department, we are committed to bringing you coverage of the Fighting Irish unlike any you can find elsewhere.
Fighting Irish on YouTube